Food
'Nutritional Facts on Vitamin K'
Circumstances that may lead to vitamin K deficiency include liver disease, serious burns, health problems that can prevent the absorption of vitamin K (such as gallbladder or biliary disease, which may alter the absorption of fat), cystic fibrosis, celiac disease, Crohn's disease, and chronic antibiotic therapy…Read More
Vitamin K refers to a family of compounds with a common chemical structure. These compounds include phylloquinone (vitamin K1) and a series of menaquinones known as vitamin K2. They are further designated as MK-4 through MK-13 depending on the length of their individual side chains. Vitamin K is fat soluble and is naturally present in some foods, is produced by the bacteria naturally present in the gastrointestinal tract, and is available as a dietary supplement. Vitamin K1, the main dietary form of vitamin K, is present mainly in green leafy vegetables.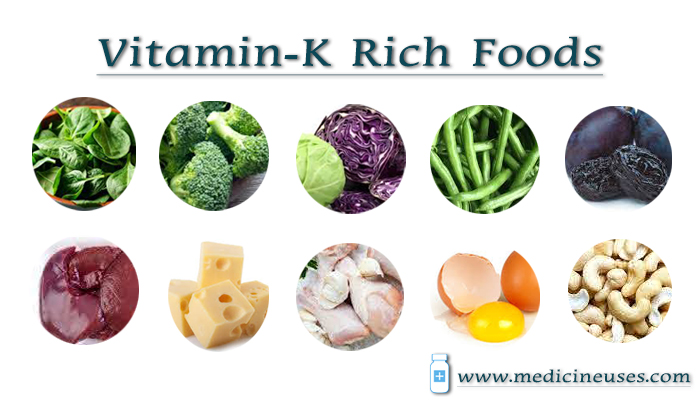 Menaquinones, primarily of bacterial origin, are found in some animal based foods and in fermented foods. Natto, a Japanese fermented soy food is an excellent source of vitamin K2. Menaquinones are also produced by the naturally occurring bacteria in the gut. However, MK-4 is unique in that it is produced from phylloquinone by a conversion process that does not involve bacteria. Vitamin K functions as a coenzyme for vitamin K-dependent carboxylase, an enzyme required for the synthesis of proteins involved in hemostasis (blood clotting) and bone metabolism, and other diverse physiological functions. Prothrombin (clotting factor II) is a vitamin K-dependent protein in plasma that is directly involved in blood clotting.

Adequate Intake (AI): established when evidence is insufficient to develop a Recommended Dietary Allowance (RDA); intake at this level is assumed to ensure nutritional adequacy.
Tolerable Upper Intake Level (UL): maximum daily intake unlikely to cause adverse health effects. ULs for vitamin K are listed on the inside cover of this text.
Antibiotics may interfere with this normal production.
Circumstances that may lead to vitamin K deficiency include liver disease, serious burns, health problems that can prevent the absorption of vitamin K (such as gallbladder or biliary disease, which may alter the absorption of fat), cystic fibrosis, celiac disease, Crohn's disease, and chronic antibiotic therapy.
Excess vitamin E can inhibit vitamin K activity and precipitate signs of deficiency. The classic sign of a vitamin K deficiency is a prolonged prothrombin time, which increases the risk of spontaneous hemorrhage. Because vitamin K is stored in the liver, clinical deficiencies are rare.
Vitamin K is needed to make clotting factors that help the blood to clot and prevent bleeding. The amount of vitamin K in food may affect drug therapy, such as that from warfarin or other anticoagulants. Warfarin (Coumadin®) and some anticoagulants used primarily in Europe antagonize the activity of vitamin K and, in turn, prothrombin. For this reason, individuals who are taking these anticoagulants need to maintain consistent vitamin K intakes. When taking these medications, it is necessary to eat a normal, balanced diet, maintaining a consistent amount of vitamin K, and avoiding large changes in vitamin K intake.
In general, leafy green vegetables and certain legumes and vegetable oils contain high amounts of vitamin K. Foods that contain a significant amount of vitamin K include beef liver, green tea, turnip greens, broccoli, kale, spinach, cabbage, asparagus, and dark green lettuce. Chlorophyll, which is water soluble, is the substance in plants that gives them their green color and provides vitamin K; thus chlorophyll supplements need to be considered when assessing vitamin K intake.
Foods that appear to contain low amounts of vitamin K include roots, bulbs, tubers, the fleshy portion of fruits, fruit juices and other beverages, and cereal grains and their milled products.
An Article by a Nutrition Student 'Syeda Ruhina Raushan'